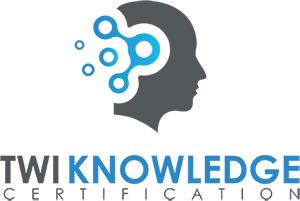 Shigeo Shingo, one of the principals behind Lean, said: "We have to grasp not only the know-how but also know-why."
Brought to you by a creative partnership between...

By enrolling now you will join Patrick Graupp and his co-presenters as they take you through the "Why of TWI," Job Relations, Job Instruction, Job Methods and Problem Solving.
The TWI Knowledge Certification Course
Our TWI Knowledge Certificate system is ideally suited for:
An organization in the early stages of "investigating TWI". In this case those charged with the evaluation will gain a thorough feel for what it is all about and the potential benefits they can realize.
An organization including TWI Knowledge Certification for all individuals as a pre-requisite to 10-Hour classes in its implementation plan.
Individuals who work in any organization expanding their TWI skill base. In this case individuals having completed TWI Knowledge Certification will arrive at their skill training with an excellent grounding in TWI.
Frequently Asked Question
I have watched the video clips and answered the quiz questions. Where do I register for TWI training?
- Australia, New Zealand and SE Asia, please go here.
- All other global regions, please go here.
When does the course start and finish?
The course starts and finishes when you want! It is a completely self-paced online course with approximately 4-hours of viewing videos and answering questions.
How long do I have access to the course?
After enrolling, you can review the videos as long as you like - across any and all devices you own.
What are the numbers in brackets after each question that assesses my knowledge?
The number shown after each question e.g. (5:35) tells you approximately where in the associated discussion the answer starts to be discussed. 5:35 means at the 5 minute 35 second point. This means if you come to a question and are unsure of the correct answer, you have a point to go to for "help."
How many questions must I get right?
All of them! If you select the wrong answer the system locks in that wrong answer until you get to the end of that unit's questions. You then have an option to retake the quiz. To get a certificate, you must answer ALL questions correctly.
How do I earn and receive my certificate?
Once you have completed all 5 units and correctly answered all the questions (62 in total across the 5 units) please email [email protected] and advise her. We will forward you your certificate once we verify full and correct completion of all questions.
What if I am unhappy with the course?
We would never want you to be unhappy! If you are unsatisfied with your purchase, contact us in the first 30 days from enrolling, tell us why you are unhappy and we will give you a full refund.