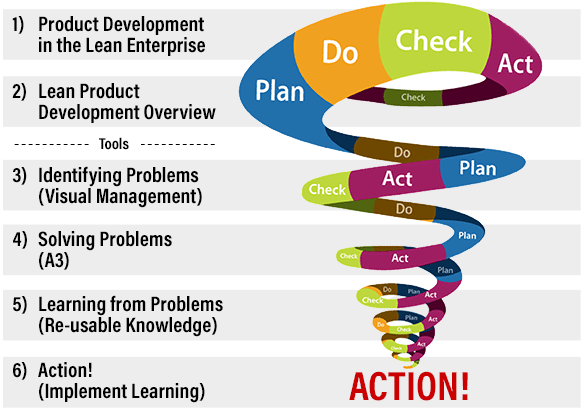 ABOUT THE AGENDA: Lean Frontiers and Develop Lean are pleased to invite you to this convenient, on-line workshop to walk you through the broad understand of Lean Product Develop, through identifying/solving/learning from problems, to action steps for you and your team. directly to your conference room, laptop, or phone.
We begin the day with a broad look at the role of Lean Product Development within the context of the Lean Enterprise. We seek to establish why a Lean enterprise should be concerned with product development and what it means to the enterprise.
Next we take a step deeper with an overview of Lean product development, how it differs from traditional methods, and the improvement the enterprise could expect. We intend to create a framework for presenting practical techniques participants can use.
Then we dive deeper by presenting tools that participants can implement immediately to impact their product development system beginning with identifying problems through visual management, followed by solving problems with the A-3 technique, and the application of problem solving to create re-usable knowledge.
We conclude by surfacing with actionable advice and practical suggestions on how to make progress on your product development improvement journey whether you are just starting the journey, or well on your way.